I arrive at Brian's thinking how grateful his wife Amanda must be now that we have finished the cooking and bottling portion of the Rituals (at least for awhile). The ACADIAN MEAD is aging in his closet, sure, but it's out of sight and out of mind. We'll be using our homemade ANISETTE today and our DIY CRÈME DE MENTHE as well, but it's strictly drink making and easy clean up. Upon arrival, however, Brian informs me that he's been brewing beer and making still-less gin. I always support him in his creative endeavors, of course, but I'm staying out of this one! We still owe two drinks from the five absinthe variations in the book, so we get down to business.
ABSINTHE COCKTAIL
1.5 oz. absinthe or a substitute (Vieux Pontarlier)
.75 oz. water
1 tbs. anisette (Rituals DIY, brandy version)
1 dash orange bitters (Rituals DIY)
Combine with ice, shake and pour over shaved ice.
This is basically an anise-flavored drink with extra anise-flavored liquor added. It also uses three different kinds of water (actual water, ice cubes, and shaved ice (!)). It's remarkable how many of these old-timey drinks are shaken with ice and then poured over ice as well. Brian wonders aloud about how they dealt with ice, pre-refrigeration, and wonders if it were actually expensive to use so much ice back then.
Anyway, the ABSINTHE COCKTAIL is a supercharged absinthe and water, with some of Brian's Ritual Orange Bitters tossed in. Does anybody really think that one dash of orange bitters can penetrate the wall of anise in there? No! His entire kitchen already smells of black licorice.
Eric: "Looks soupy."
Brian: "Jesus, this is Super Boozers."
Eric: "Thank God for the water, thank God for the ice."
Brian: "All of these recipes involve a ton of ice."
Eric: "Looks good in a coupe glass, though, I'm going to give it a couple of extra points for that."
Amanda: "I'm getting a lot of black licorice here."
Eric: "Why is it pronounced 'licor-ish?' Why isn't it "licor-isss?'"
SCORES: Brian gives it a strong 7. Amanda, 4. Eric, a 6 minus.
ABSINTHE SUISSESSE
1.5 oz. absinthe or a substitute (St. George)
1 egg white
Several drops of anisette (Rituals DIY, brandy version) and white crème de menthe (Rituals DIY)
A few drops of orange flower water (Fee Brothers)
Combine with ice; shake well. Strain straight up.
The ABSINTHE SUISSESSE is our final absinthe drink in the OLD BUSINESS file—we are optimistic for this one because it employs our tasty DIY CRÈME DE MENTHE. I'm not sure what happens exactly, but the egg white gets partially cooked in the shaker (by the 120 proof absinthe, no doubt) and coats the sides of the mixing glass with eggy sludge. It won't even make its way through the strainer without blocking up. Perhaps there was too much discussion about Brian's kitchen smelling like a licorice factory and those few seconds in the tin caused the egg white to start solidifying.
Both of us agree that we've made this drink incorrectly, but neither of us wants to start over. The ABSINTHE SUISSESSE is overpowering and unnecessarily thick with the nastiest of mouth feels. Neither of us can finish it—a Rituals first.
Brian: "This is fucking weird."
Eric: "I just want to be done with absinthe."
Brian: "Where's Amanda?"
SCORES: Brian gives it a 1. Eric: "A 0 plus. I want to leave room for something worse." Amanda gets an Incomplete.
[Editor's Note: Eric had a very tasty Absinthe Suissesse at Kingfish in New Orleans, where they built up cracked ice into the glass like a snow cone, then drizzled the ingredients in. There also seems to be orgeat and heavy cream in many recipes, which seems like the way to go. Looks like we will have to revisit this (sigh).]
We are exuberant to be throwing off the yoke of old business and forging ahead into the unknown. A fresh start! The first cocktail is called an ADAM AND EVE, an appropriate name for our new beginning.
ADAM AND EVE
1 oz. gin (Bombay Dry)
1 oz. cognac (Hennessey)
1 oz. Forbidden Fruit (Rituals DIY)
A few drops lemon juice
Combine with ice; shake. Strain over ice.
It's called this because of the FORBIDDEN FRUIT in the recipe, but our DIY FORBIDDEN FRUIT smells rank. Yes, our little section of the Garden of Eden reeks. It has improved since the last time—it's sweet and complex—but maybe should more bitter. Bitterer? And who can say for sure if it's going to work with these other ingredients? Still, we have to give it a go.
Eric: "Who is responsible for this?"
Brian: "I don't like the smell of it. I think it's the cognac that's off."
Amanda: "It reminds me of a swimming pool."
Brian: "It does have an odd smell of pool."
Amanda: "Something chlorinated."
Eric: "Why can't we have good-tasting things?"
Amanda: "We should call this The Pool Boy."
SCORES: Brian gives the Adam and Eve a 4. Eric, a 3. Amanda abstained.
In the Rituals tradition of making a better beverage from two of the day's ingredients, Brian approximates a bathtub gin recipe that he tasted in Scotland. It's superb.
BRIAN'S BATHTUB GIN
1.5 oz London Dry gin (Bombay Dry)
.75 oz lemon juice
.5 oz St. Germain elderflower liqueur
.25 oz Crème Yvette
.5 egg white
Dry shake egg white, then add ice and ingredients. Shake well and strain into chilled glass.
Tell me that pink and frothy adult beverage doesn't look gorgeous in a gold-rimmed coupe glass!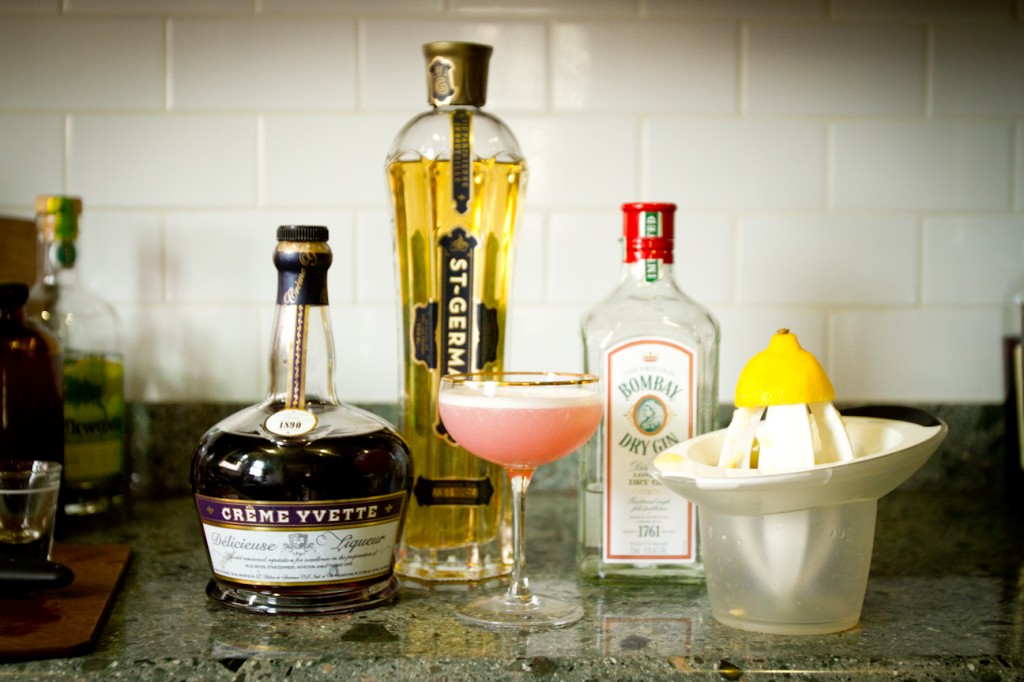 SESSION STATS
Location:
-Brian's place
Session Winner:
-Brian: Absinthe Cocktail
-Eric: Absinthe Cocktail (since the Bathtub Gin doesn't count)
Session Loser:
-Brian: Absinthe Suissesse
-Eric: Absinthe Suissesse
Session Alternate of Actual Quality:
-Brian's Bathtub Gin FTW!
Tasted:
-Hooker's House Rye Whiskey, Sonoma County
Eaten:
-Nothing, we went to a party directly after
Discussed:
-Gender battles over counter space
-American football
-Gin bars in Scotland
-Barcelona
-Absinthe PTSD
-Sleeping through multiple alarms
-Contracts which freely admit they might be unenforceable
-Non-collegiate beer brewing
---
---
---