In Part 1 of the After Dinner Aggravation, Brian, Eric, and Guest Taster Jason tried out two separate "After Dinner" drinks with unprecedentedly positive scores, while still kind of hating them. We pick up where we left off, with Rituals crew building the AGGRAVATION:
Next up we have a drink that uses Kahlua and of course we have some homemade Kahlua to taste. My fiancée's sister whipped up some Kahlua a while back and sent it to us, but I never used it. When this Rituals session came up I got excited to taste it against the actual Kahlua. I emailed her to find out the recipe and here is her response.
Hi Brian, 
So here is the recipe I used:
Freshly Brewed Coffee Kahlua
Strong, freshly brewed coffee is the key here… my somewhat weak coffee skills didn't bring the best results.
2 1/2 cups very strong, freshly brewed coffee
2 1/4 cups good quality vodka
4 cups granulated sugar
1 vanilla bean cut into 1/3's
Cool freshly brewed coffee to room temperature.  Add the vodka and stir to combine.  Pour the mixture into three 12.5 oz. bottles.  Cut each vanilla bean into 1/3's and drop 1/3 into each bottle.  Cap.  Store in a cool, dry place for 2-3 weeks.  Strain, remove the beans and then re-bottle.
http://livlifetoo.yummly.com/2013/11/diy-homemade-kahlua-3-versions.html?m=1
I used local coffee from Treasure Valley Coffee. http://tvcoffee.com 
Ordered MADAGASCAR vanilla beans from. https://www.beanilla.com/madagascar-vanilla-beans
Vodka was Idaho Silver Vodka
Glad you guys liked it! 
Always, E
The homemade Kahlua has much more of a coffee taste to it along with a decent vanilla flavor. It is quite different from real Kahlua but still very good. We ultimately decide to make our next drink with the original Kahlua to stay true to the recipe. Without further ado I bring you the AGGRAVATION.
AGGRAVATION
1 oz. Kahlua
1 oz. Scotch (Monkey Shoulder)
Milk
Fill glass with milk, add ingredients and two ice cubes, stir slowly, and serve.
Brian
That's weird, but it's not bad. It's the scotch.
The scotch is weird.
Eric
Why is this called the Aggravation?
Brian
I don't know. I am in no way aggravated by this.
Eric
Maybe you need to be aggravated to want
one of these.
Brian
Does it tone down aggravation?
Eric
The scotch is weird. I don't hate it but its like the
scotch is dancing around all the sweetness and the dairy.
Here I am! I'm here! Because to me it tastes
like an afterthought.
Brian
On second tasting I don't get as much scotch.
Jason
It's like chocolate milk.
Eric
These are the tasting notes that we're after!
Jason
I need a straw for this. I need a juice box.
Brian and Eric
What do you think about the scotch?
Jason
You know what would be interesting? If you had
Laphroaig in there or something that
was more aggressive.
Eric
I had a Laphroaig milkshake in Seattle.
Jason
There's not a lot going on with that scotch
[Monkey Shoulder]. I want more scotch taste.
Eric
You want more scotch taste out of
your dairy and Kahlua, I totally get it.
We somehow get into discussing the Carl's Jr. model exploitation advertising after watching the Charlotte McKinney ad and then promptly get back to the tasting.
Eric
This is in the same category as the A-1
Pick-Me-Up for weirdness.
Brian
I don't know about that.
SCORES: Eric 3, Brian 5, Jason 7.5
Wait, did Jason say Laphroaig? Yes, yes he did. Why don't we tweak the ingredients of the AGGRAVATION? Well we did and we decided to call it the IRRITATION.
IRRITATION
1 oz. Homemade Kahlua
1 oz. Laphroaig
Milk
 Fill glass with milk, add ingredients and two ice cubes, stir slowly, and serve.
Jason
This Laphroaig dominates.
We are watching Blade Runner at this point. (Still one of the best sci-fi movies ever. The cinematography holds to this day and still people are trying to make movies with that look but to no avail.)
Jason
I like it. I think that's better.
Eric
Would you drink that again?
Jason
I don't know. I'm not a big milk drink guy.
I don't search out milk-based cocktails.
I like that more than—
Brian
How is it with the different Kahlua?
Jason
I think it's interesting that Kahlua [the original]
isn't as coffee forward. I do think the Laphroaig
is better than Monkey Shoulder.
Brian
I do like that it is more vanilla. I think it helps
with that smoky.
Jason
It tamps it down. They are both competing
for your attention.
Brian
I went through a big white Russian phase at one point.
I like this drink. I would definitely make this again,
but I'd probably use less milk.
Jason
Yeah.
Brian
So what's the ratio? The Aggravation is 1, 1, and milk.
Eric laughs.
Brian
The Irritation should be 1, 1, 2½ or 3.
SCORES: Eric 6, Brian 6.5: "Less milk would get a higher rating", Jason 8
We've taken part now in 23 recipes from the Complete World Bartender Guide, which means we only have 92 more cocktail recipes to make plus 7 liquor, and 10 punch recipes.
Check out our next installment when we airmail a hot toddy into Alabama.
SESSION STATS
Location: Eric's place
Session Winner:
-The AFTER DINNER wins with the IRRITATION a close second
Session Loser:
-The AGGRAVATION was the lowest scorer of the day.
Session Alternate:
-Eric makes something he calls the Bloodier & Sandier, based on a Blood & Sand, with blood orange juice, scotch whiskey, sweet vermouth and Cherry Heering.
Homemade/Homegrown Items Used:
-Kahlua
-Swedish Punsch
Tasted:
-Swedish Punsch
-Kahlua (regular and homemade)
-Cherry Heering
-Kirschwasser
-Mocha Stout
-Grand Poppy liqueur from Greenbar distillery
Eaten:
-Open face tuna melts
-Roasted red pepper and tomato soup
-Salad
Discussed:
-Where's the U.P. (Upper Peninsula)?
-NCAA basketball
-Simon & Simon
-Cooking = applying heat
-The Blind Barber
-Farriers
-Oprah's Book Club
-Cocktail ethnographers
-Boston shaker methodology
-Nebulousness
-Blade Runner
-White Russians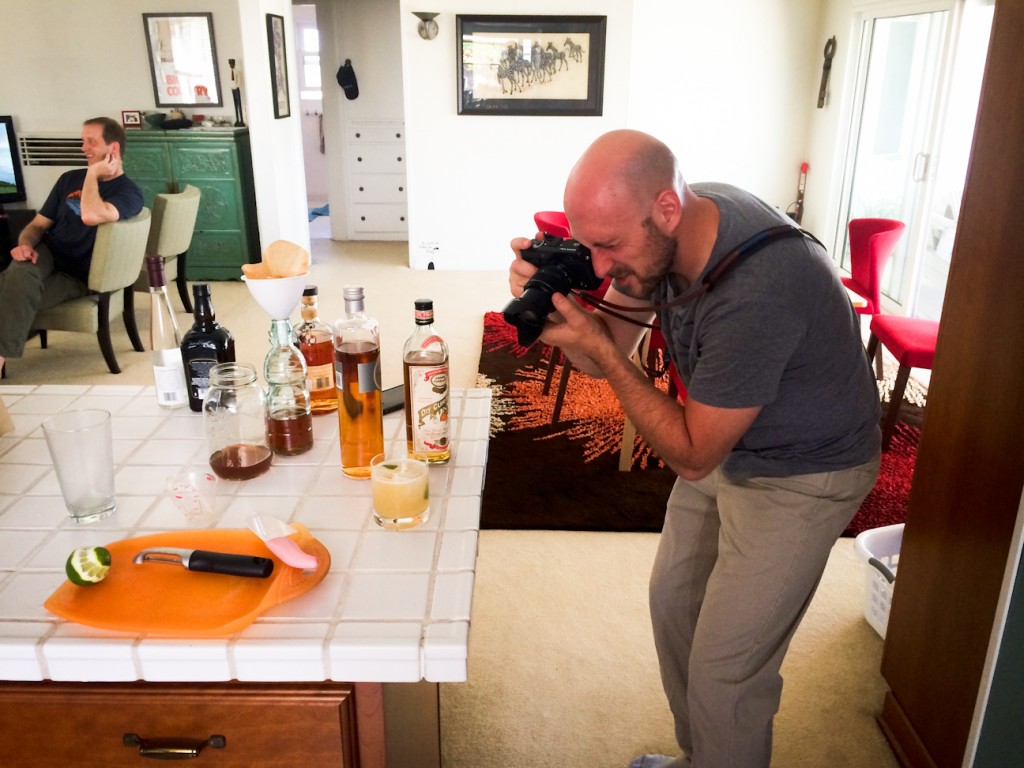 ---
---
---