36 HOURS OF MAYHEM


"I'm scared, Brian." This is not the first time I have uttered these words and it probably won't be the last. But it is a very real fear this time and it is potent. We are attending our first liquor convention, the San Francisco Craft Spirits Carnival, and we have no idea what to expect. Thirty-six hours in San Francisco and it could get ugly. And why is it called a carnival exactly?
It takes special courage to be a craft distiller. The Festival Pavilion at Ft. Mason is filled with iconoclasts and scrappy upstarts who bring their product to an increasingly crowded market in spite of the long odds. We are immediately besieged, however, by some of the peripheral companies that serve this market—first by a company that is giving away its hangover tonic if you partake in a modified game of Cornhole, and then Ficks Cocktail Fortifier—whose business model revolves around adding a shot of liquid vitamin love to each cocktail in order to neutralize the alcohol's diuretic effects. There are chocolate vendors and a bottle etcher and a cigar vendor and some other randomness. There are tamales and brats and empanadas and knishes to eat. There are also Polynesian dancers at one point, and shouting, and applause, and the breaking of glass, and a wall of sound that builds to great intensity.
We are here to meet the craft distilleries, mainly the ones from California who are clustered around the center of the pavilion. It's unclear whether this is a tight group or whether it's filled with infighting and gossip. Like any small community it's probably a bit of both. Are they competing against each other or are they allied with each other in the battle to capture market share from the big boys? The one thing that unites these distilleries is their bafflement that brands such as Cutty Sark and Macallan and Bulleit Bourbon (owned by the Diageo behemoth) are allowed into a craft spirits convention without question. "I guess if you're an event promoter you're not going to turn down anybody who's willing to pay for a booth," one of them says.
One is further able to subdivide these brands by asking the question: Do you make your own spirits from scratch? A surprising percentage of distilleries purchase their spirits in bulk from other distilleries and then release them as their own or blend or barrel-age them in order to impart some signature flavoring upon them. This has long been a way for a distillery to go into business quickly and to credibly establish a name for itself before it starts experimenting with its own fermentation and distillation methodologies. Distilleries that take the time and money and energy and know-how to make their own spirits might not appreciate this strategy of buying bulk liquor from others, but it is not uncommon.
But we are here to taste and meet people and make friends and taste some more. Craft spirits are a glorious thing and should be celebrated! The carnival is open for business from 1pm to 5pm Saturday and Sunday, and even though we try to talk to everybody eight hours is not enough—we only get through about half of the brands. Somehow we still manage to enjoy ourselves, even though there is simply too much to see. In spite of the sheer volume of alcohol available (an infinite quantity of ¼ ounce pours), we spot only one man brought to his knees by it and only one couple groping each other indecently on the grassy knoll outside because of it. Yes, a surprisingly high degree of responsible behavior is on display here at the San Francisco Craft Spirits Carnival. Everything considered it is a great success. We are still alive, after all.
THINGS WE LEARN INSIDE OF THE FESTIVAL PAVILION


Since the event takes place on federal land, distilleries can sell directly to the public without a middle man, without charging sales tax. In other words, because this event is on federal land ANYTHING GOES (first time those words have ever been spoken).
If this event were in Japan it would feel more like an auto show—each brand would have a posse of young smiling women in matching miniskirt uniforms. As it is, it's a bunch of bearded, scrappy renegades and family members.
Germans are crazy about cachaça and nobody knows why. Pür likor's CEO, the gregarious Kiki Braverman, tells us this. Also, Germans are "no bullshit."
Flights out of Santa Rosa allow you to check a case of wine or spirits for free. Alaska Airlines plies you with free wine and beer.
Sloe gin is a thing now. We taste three different versions of it—Sonoma County's Spirit Works being the best. Plymouth is also there (another craft distillery?) but we give them a miss since I already have a bottle of theirs at home. Everyone comments about how messy the process of making sloe gin is. In my mind I picture Lucille Ball smashing sloe berries with her feet, somewhere in England.
One can make a still out of a hot water heater, if one were so inclined.
If you are a beekeeper or a farmer or a forager, you can make spirits too. Vermont's Calendonia Spirits Barr Hill vodka and exquisite Tom Cat barrel-aged gin come from local bees, Sweet Potato Spirits makes a good sweet potato rye from the family crop, and Ventura Spirits sources their Opuntia Prickly Pear Spirit ingredients from local cacti.
Ascendant Spirits makes its 111 proof "marine strength" Semper Fi Corn Whiskey with red, white, and blue corn. Why? "Because America."
Don Q Gold Rum is the rum supposedly used in the first-ever piña colada in 1954, made by Ramon "Monchito" Marrero. Impossible to verify, but we will go with it. Brian thinks his mom will like Don Q's coconut rum.
The world will soon contain an 8-bit gin-making video game, courtesy of Coastal Spirits (Gin Farrallon).
The decibel level of at a spirits convention doubles every hour (inverse Moore's Law).
STANDOUT CALIFORNIA SPIRITS


STANDOUT OTHER SPIRITS




THINGS WE LEARN OUTSIDE OF THE FESTIVAL PAVILION


People will wait in a 90-minute line for breakfast, including us.
Because of its ancient liquor license, you can order a go-cup of Irish Coffee from the Buena Vista café. They give you the cream and coffee in one hand and an unopened 50ml bottle of Tullamore Dew in the other—then you're told to exit the premises before combining them. It's probably a good idea not to linger because the waitstaff can be downright hostile!
Redemption Rye and Cynar (of the Campari Group) play well together.
Kozy Kar is the diviest of dive bars. Inspired by '70s van culture, Kozy Kar assaults you with images you might want to forget (people drinking on a waterbed when you walk in, a bar covered with 70s soft-focus centerfolds, copious amounts of Olympia beer, a van in the back with a CB you can communicate with, and worst of all, a videotape playing above the bar that intercuts scenes of Family Ties and CHIPS with hardcore porn.) Even though Brian prepped me for this experience, I am still scarred.
Bar Tartine, ABV, Comstock Saloon, and Trick Dog are very worthy.
Brian: "ABV [Imbibe Magazine's Bar of the Year] is San Francisco. But Kozy Kar… Kozy Kar is also San Francisco."
It's probably time for some yoga, water, and healthy eating choices in our lives.
 ◊◊◊
On the Next Rituals: I'd Rather Be Punsched in the Face! (In Which Brian and Eric Drink the Undrinkable Batavia Arrack and Make DIY Swedish Punsch From Scratch).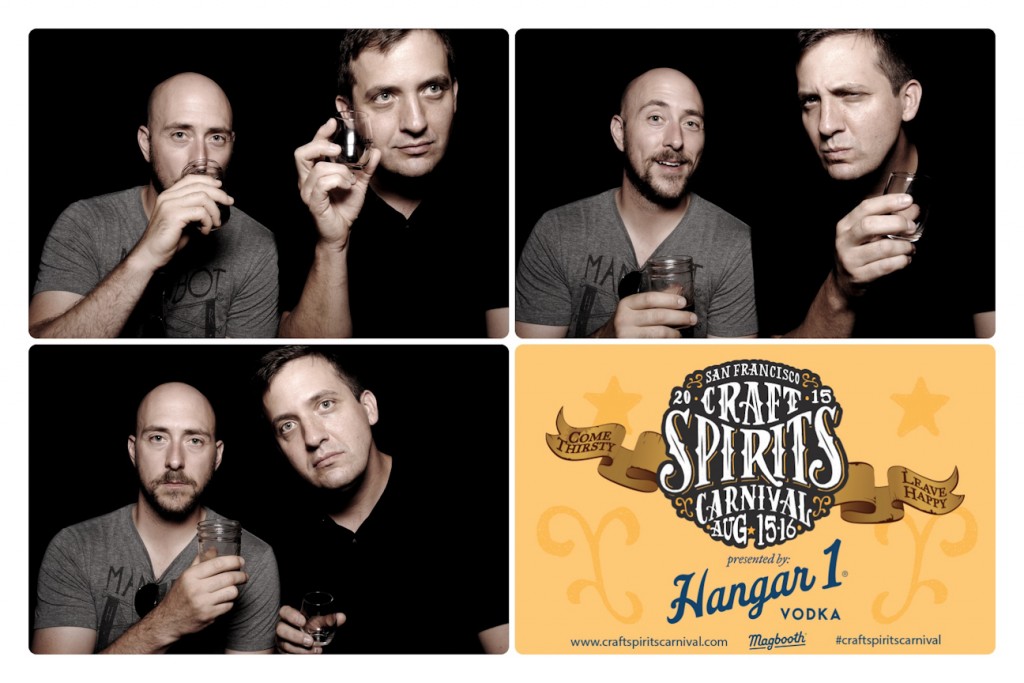 ---
---
---