Melaney Schmidt manages the restaurant bar at the Standard where she has created the White Duck (Aperol, Ford's gin, grapefruit), the Smith & Crossing (Caña Brava rum, Smith & Cross pot-still rum, lime, mint, pineapple, absinthe), and other delicious concoctions. Her focus is on using fresh kitchen ingredients and pairing these culinary flavors with boutique spirits to create inventive cocktails.
Recently the Rituals staff took a field trip to downtown Culver City to attend a rollicking gin class hosted by the wine and spirits mecca Bar and Garden and their co-owners, Marissa Mandel and Lauren Johnson. Marissa, Lauren, and Melaney used a dozen (mostly) craft gins to showcase differing flavor profiles within the full spectrum of gin styles, from genevers to upstart New Western and New American gins.
We were able to ask Melaney a few questions after class.
◊ ◊ ◊
The Rituals: How would you describe the public's perception of gin today?
Melaney: I think many people perceive gin as something their grandpa drank and that it's disgusting. My first experience with gin happened when I was underage and trying to get into a nightclub. We wanted to drink in the car before we went in because we obviously couldn't get cocktails at the bar. My friend had somehow gotten a bottle of Beefeater so we tried to drink warm room temperature Beefeater outside of the club in the car. I remember thinking, "This is awful. This is disgusting." I remember not going near gin again for another five years, because that first experience is often everything. Once I started working at higher-end cocktail bars I started realizing, "Okay, I can kind of like this."
The Rituals: How do you bring people into the fold?
Melaney: Gin people might hate me for saying this, but gin is really a kind of flavored vodka. And when you are trying to suggest it to people who think they hate gin—who won't go near it—I think it's okay to explain it this way. We have a cocktail that uses Ford's gin but on the menu I describe it as "soft gin." That's my way of saying, "This is not what you think it is." Because I want them to try the drink—and truthfully it wouldn't work without it the gin. It wouldn't be good. You need the botanicals to pump it up. Gin seems to be this weird scary no-man's land for people who don't know it and this is my way of making it a little less scary.
The Rituals: It's almost more of a psychological problem than a taste problem.
Melaney: It really is, yeah.
The Rituals: Do you think the public's palate will get more adventurous over time?
Melaney: I think so, and I give a lot of credit to Hendrick's for really opening up the market to people. Hendrick's came in and just dominated with a really delicious, approachable, fantastic gin. The flavored vodka thing was huge forever, and again, when you think about gin it's sort of a flavored vodka. And people are doing really creative things right now with gin—I don't see that stopping. So who knows?
The Rituals: Okay, what would be the essential gins in a home bar?
Melaney: I would do three gins. I would get a small bottle of Bols Genever because it's interesting and great to entertain your friends with. For a London dry, because of its availability: Tanqueray. Tanqueray is the epitome of what a London dry gin should be. And then for something creative: Ford's Gin from Simon Ford at the 86 Co. It's fantastic. Ford's has a different botanical recipe and it's the best home bar bottle that I would recommend without breaking the bank.
The Rituals: Are there any lesser-known gins that you would recommend?
Melany: A lot of people are into Monkey 47. But I really like No. 209 from San Francisco. It's a cardamom bomb! I love it.
The Rituals: Let's talk about the gin and tonic. How do you elevate this sometimes pedestrian cocktail?
Melaney: My perfect gin and tonic has got to be with homemade tonic syrup, and for this [Melaney brought a homemade syrup to class] I actually kept it light. I didn't add too much bitterness to it because I wanted to make sure people weren't going to object to a bitter bomb. But my perfect syrup still has bitterness to it, sometimes a little bit of fennel in it. And then cucumber water—where you actually press the cucumber out and use that in the syrup instead of regular water.
The Rituals: What gin are you using? What club soda?
Melaney: Beefeater. And Fever Tree is so good. For me it's important that the bubbles be really really tight. If you just use siphoned soda water the drink falls apart. It doesn't hold up.
The Rituals: Do you have any tips for people who are interested in making their own home gin? When we tried it we put way too many caraway seeds in there and it turned into kind of a kümmel. It was horrible.
Melaney: Start with a good base. Start with a good overproof spirit or even a vodka. Make sure it's nice and clean because you don't want it to pick up any glycerin or any weird artificial stuff going on. I like Ketel One. And I would say less is more. Add a little bit at a time and then if it's not getting the marks that you want then add a little bit more, a little bit more. And keep it in super-cool dark place because the hotter it is the quicker it's going to pull out those ingredients.
The Rituals: Do you think this current interest in cocktails will pass? It seems our appreciation for food has changed in the last ten years, but maybe it's just a thing.
Melaney: I think interest will grow as long as the quality can keep up. So if we rush to keep up this weird foodie thing where we're putting all sorts of weird ingredients in there and everybody's calling themselves a mixologist, I think people will think it's a fluke and they'll laugh at it. But wine has been so successful because it holds up over time. Cocktails don't have to be serious to the point of pretentiousness. It should be just about getting together and enjoying the time and space that you're in.
The Rituals: This is kind of a side question, but how come you can, as a novice, make a cocktail at home and have it be amazing but when you go out to a bar sometimes that same drink really sucks? I mean, it's a recipe, right?
Melaney: I think it's two things. First, you're making your own drink so you're taking the time—whether you realize it or not, you're putting in the effort to make this drink well so you can sit down and enjoy yourself. A bar might be using inferior ingredients—or it's that ice situation where if they use cruddy ice and it melts really quickly then you're going to get a flavorless drink. Second, you have to realize that everybody makes their drinks a little differently. People often say, "Well, I had it this way at this other bar," but that's not how it works. Classic cocktails especially can be compared to T-shirts. There are a thousand different types of t-shirts out there, you know? But I am a firm believer that if you don't like a cocktail you should send it back.
The Rituals: Really?!
Melaney: Yes. Hospitality is about an experience. You go there and somebody provides you with a product and a service that you're paying for, so there's an expectation of care. You want to be treated well and have a good experience there, so if it's not meeting your expectations you have the right to say, "This isn't how I thought it would be; can we try something else?"
The Rituals: That's interesting because I just don't want the confrontation. I usually think, "I'll drink this, but I'll never order this from this bar again, and I might never come back here again."
Melaney: Exactly. And you went there for a reason, right? So hopefully you have a better experience and hopefully you do come back!
The Rituals: Thanks for chatting with us! We're curious, though: What's your favorite gin beverage these days? What are you making at home when you can have anything?
Melaney: Probably a Last Word [gin, green Chartreuse, maraschino liqueur, lime]. The Last Word is great because it has a lot of complexity in it and the herbs in the Luxardo and Chartreuse sort of wake up the botanicals in the gin as well. It's refreshing and when executed properly it's damn delicious.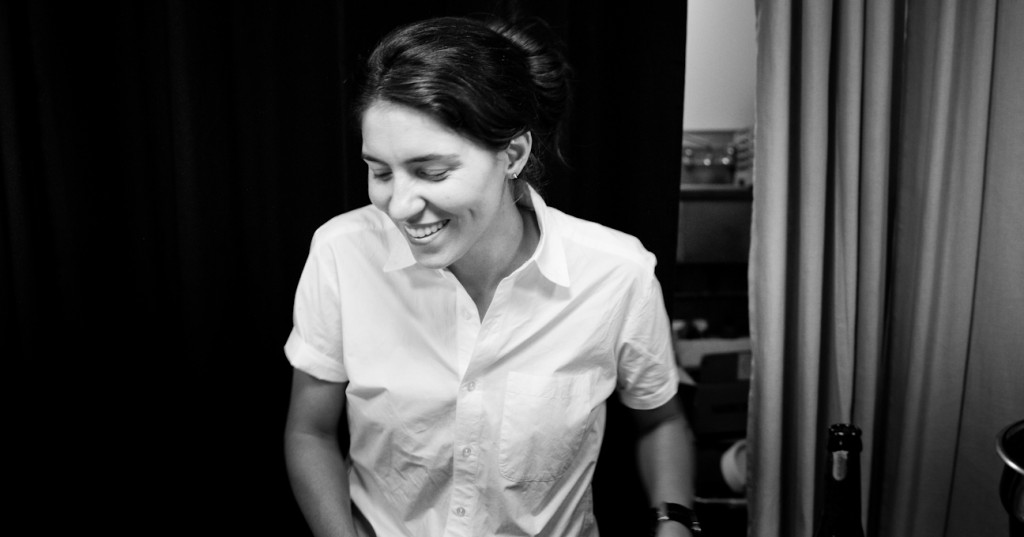 ◊ ◊ ◊
Melaney's Tonic Syrup she brought to class:
This is a much more citrus focused tonic, less bitter than traditional.
4 cups water
1/2 cup dried kaffir lime leaves
2 tsp whole allspice berries
1/4 cup powdered cinchona bark
Juice and zest of 1 lime, lemon, and orange
3 cups of sugar (agave can be substituted)
Put all ingredients in a saucepan on medium heat until boiling. Allow to cool completely. Strain. This is a take on Jeffrey Morgenthaler's recipe (substituting kaffir for lemongrass and adding additional allspice).
Her preferred, more bitter version adds the peel of 2 whole grapefruits and about ¼ cup more cinchona bark (to really pull out all of that quinine).
A final note from Melaney: "Be careful making your own tonic because cinchona bark and quinine can be dangerous in large doses."
And: "Fever tree makes an astonishing tonic. If I'm feeling lazy, then that's my go-to!"
◊ ◊ ◊
If you wish to visit Melaney at The Standard in DTLA her usual hours are Friday through Tuesday from 3-11 P.M. And check out her website at www.publicprovisions.com.
On the Next Rituals: Brian and Eric endure 36 hours of mayhem at the San Francisco Craft Spirits Carnival.
---
---
---