In Part 1 of this post, Brian and Eric (and guest tasters Jesse and Andrew) blundered through a frail cocktail called the Airmail Special. The recipe may have been compromised by an atypical lack of lime juice measuring precision, but the disappointing results felt very familiar. In Part 2, the guys lumber forward toward the remaining two drinks — AL LONG'S SPECIAL HOT TODDY and the ALABAMA — with unrealistic optimism.
The first thing any living creature will ask itself after drinking AL LONG'S SPECIAL HOT TODDY is "Who the hell is Al Long?" Jesse asserts that Mr. Long is a veteran of the blue movies, but after significant digging I conclude that Al Long is not actually Al Long at all, but A.L. Long (Armistead Lindsay Long), a Confederate general during the Civil War. The South has a long history of loving the hot toddy, actually, and Civil War novels are filled with soldiers around campfires drinking them. Furthermore, the hot toddy was William Faulkner's second favorite drink, behind the mint julep, so it must be deeply ingrained into the South, right? What makes AL LONG'S SPECIAL HOT TODDY special is the inclusion of raspberry syrup, which Brian makes beforehand. The syrup smells oddly rank in the bottle but tastes delicious so Brian charges forward with combining all of the ingredients on his trusty stove.
AL LONG'S HOT TODDY
2 oz. Drambuie
2 oz. Scotch (Famous Grouse)
1 oz. raspberry syrup
1 Tbsp lime juice
3 oz. water
Combine in a saucepan. Bring to a boil. Serve hot.
Andrew: This is the kind of thing I want to back off on because I'm worried my contacts will start wrinkling.
Brian: Man, that's just Super Boozers, as Jesse would say.
Eric: Look, Andrew looks sad, forlorn somehow.
Andrew: I'm trying to picture this in a colder climate.
Jesse: Ooh, like the Swiss Alps, maybe.
Brian: To be completely honest, though, it's really not that bad. It's really boozy, but—
Jesse: The best part about an alcoholic drink is that it's boozy.
Andrew: I think it's a good hot toddy. It tastes like raspberry tea with a ton of whiskey in it.
Eric: Smells like Theraflu. One of those very specific Theraflu flavors. I think my body's getting sick as I smell this because it's being reminded of being sick and drinking Theraflu.
Brian: You know, this really opens up everything. Helps you breathe better.
Jesse: If you had a cold or a sore throat, this is what I would say to drink.
Andrew: And I think it's key that you boiled it all together instead of adding the whiskey later, as they were doing in Edinburgh.
Jesse: At that ice rink where you stole that glass—
Brian: But I'd also like to say that I'm giving it an 8, for the hot toddy itself.
Eric: Because there's heat. And a mug.
Andrew: That's exactly what I would say. I am not a hot toddy expert, but I would say that if I ordered a hot toddy and was handed that, I would say, "Mm, this is a good hot toddy."
Jesse: I agree.
Eric: "Of all the hot toddies…"
Andrew: Yeah, of all the hot toddies I've had, yes, it is a good one. Which, you have to keep in mind, a hot toddy relative to all of the other drinks is kind of like in this area (makes a low gesture with his hands).
Eric: Normally I would give this a 7, but it's really bringing back the Theraflu vibes. I'm gonna dock it 2 points because it reminds me of being sick.
SCORES: Scores: Brian 8, Eric 5, Jesse 7, Andrew 7
Our final drink, the ALABAMA, is the only beverage in this week's session without "special" in its name. Humility is important in a cocktail, we are discovering, but it's also the death knell if you're a cocktail trying to survive amongst an ocean of self-aggrandizing, self-promoting millennials. A cocktail that has really mastered SEO and branding is the Alabama Slammer, which dominates the results at a popular search engine when "Alabama cocktail" is entered into the handy search bar. The Alabama Slammer is made with amaretto, sloe gin, Southern Comfort, and orange juice, and is reportedly ex-quarterback (and Wrangler spokesperson) Brett Favre's favorite cocktail. But we won't be making that today, thank God. Instead, we are happy to be spending time with our humble and reclusive ALABAMA, a drink for introverts.
ALABAMA
¾ oz. brandy (Hennessy)
¾ oz. curaçao (Pierre Ferrand)
1 oz. lime juice
½ tsp. sugar
Combine with ice; shake. Strain. Add ice, and a twist of orange. Drop in the peel.
Andrew: Wow, this could cure scurvy.
Brian: Not a high score for me.
Andrew: I like it. It's definitely a refreshing sipping cocktail. It's not something you would polish off in 3 minutes.
Eric: How much lime is in there?
Brian: Ounce. You could go half ounce and probably be fine.
Jesse: Nah! That lime is great! I could drink these, on the reg.
Eric: (drinks) Way too much lime.
Andrew: But it finishes orange. It's limey in the middle but it finishes orange, and that's what's good about it!
Eric: I like that you're taking a stand on this one, Andrew.
Andrew: I would order that. That would be a drink that I would order.
Jesse: Even with the amount of lime, I like it. I think it's good.
Eric: It's boring and sour. Who wants the rest of it?
Brian: It's gone!
Andrew: Sure sign of a good drink…
SCORES: Brian 6 ½, Eric 5, Jesse 7, Andrew 8.
Surprising parity in this week's Rituals, and some surprisingly high scores as well! This could very well be the most successful in Rituals history, at least in terms of numbers, especially if we had made the Airmail Special properly. Then again, perhaps Jesse and Andrew's unbridled enthusiasm skewed the average a few points? Isolated, Brian's scores and my scores tell a different story—a story of unrealized potential and broken dreams—but it's a beautiful thing to be buoyed up on this wave of fraternal kitchen optimism. All I know is that next week we are making a drink called the ALABAZAM. What else can one hope for in life?
SESSION STATS
Location: Brian's place
Guest Tasters: Jesse, Andrew
Session Winner: A.L. Long's Special Hot Toddy, by the thinnest of margins
Session Loser: Airmail Special
Homemade/Homegrown Items Used: DIY Raspberry Syrup
Tasted:
-Two James Rye Dog
-Two James Rye Dog (aged with Whiskey Elements wood sticks)
-Brian's DIY Gin (heavy caraway!)
-Amaro Nonino
-Cappelletti Amaro
-Del Professore Sweet Vermouth
-Sun Liquor Aromatic Orange Bitters (referred to as Sun Records)
-A cobbled-together French 75
-Gin and Tonics with Brian's DIY tonic syrup
Eaten:
-Lucifer's Pizza
Discussed:
-Drinking millet beer like it's water in Central Africa
-Whether requiring a deposit on a mug is in fact a tacit endorsement by the bar for a guest to abscond with said mug
-Property values in Highland Park
-Fellini
-Amari
-Which room would you sacrifice in your house to create a stairway?
-Insurance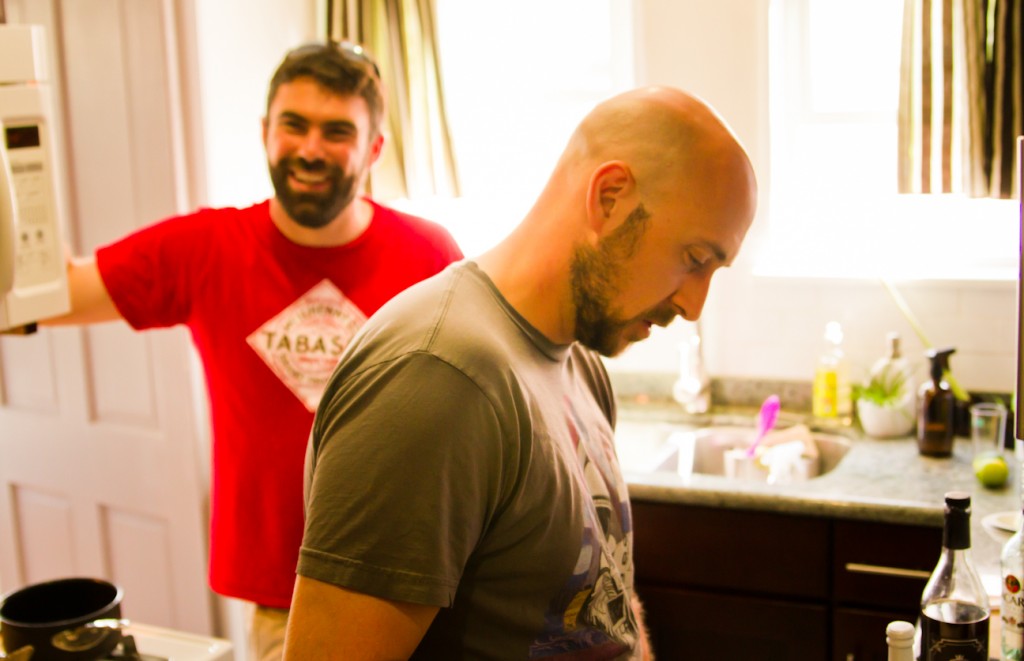 ---
---
---