Today we'll be making three things from scratch: a homemade CRÈME DE MENTHE for rounding out our absinthe duties, the promisingly innocuous ACAPULCO (next in the A's), and our ACADIAN MEAD recipe (or non-recipe, depending on how you look at it).
But before we can move on to these newest of challenges, Brian and I have to test our second attempt at the dreaded A-1 PICK-ME-UP. I personally have found that in life it's best to approach all things with lowered expectations, but neither of us needs any help with Phase 2 of the A-1—our expectations are already quite low, maximally low. I have let our small batch lemon and broken-eggs-in-their-shells mixture relax for a week in my fridge and now that I've brought it over to Brian's there will be a settling of accounts. Yes, there will be a reckoning.
Brian unscrews the cap and sniffs. Nothing moldy, nothing off. Most of the egg shells have disintegrated, as advertised, except for one poking out of the top of the mixture. The contents of the jar seem to be undergoing a phase change from a liquid to a solid—it's yellow and frothy and smells lemony, but there's no rot, no nothing! He pours out the clumpy goo and quadruple strains it and we keep waiting for the foulness to hit, but it never does. In a separate pan we boil the dark rum and rock candy, then add it to the egg mixture and let it cool.
And surprise of all surprises: It is actually quite good. The A-1 PICK-ME-UP has the taste and consistency of lemony eggnog, and it does not taste alcoholic; a good thing in this case. We concur that it will taste even better cold, over ice, and also agree that that its efficacy as a hangover cure should be part of its final score. But beyond that Brian and I are speechless.
Brian: "…"
Eric: "!"
SCORES: Eric gives it an 8+, probably due to his Philosophy of Lowered Expectations. Brian ups it to a 9.
After prepping a cup of mint leaves and tossing them in with some vodka to steep (the first phase of our off-the-book DIY crème de menthe project), we are eager to lurch forward in our real duties: charging headlong through the A section of The Complete World Bartender Guide, The Standard Reference to More Than 2,400 Drinks, copyright 1977. This means the ACAPULCO, which looks like a nice respite from the pre-prohibition weirdness we have been dealing with up to this point.
ACAPULCO
1.75 oz rum (Appleton Estate Jamaica Rum)
.25 oz triple sec (Pierre Ferrand Curaçao)
1 egg white
.5 oz lime juice
Sugar to taste
Mint leaves
Combine with ice; shake into pre-chilled glass. Strain. Add ice and top with one or two mint leaves, partially torn.
This looks like a boozy rum sidecar with egg whites in it and some (torn?) mint leaves on top. What could go wrong, right? Everything, it seems. I don't know why, but this is disgusting. There is something really vile about it. Perhaps it's the soapy egg white that doesn't belong here. Maybe the recipe really wants Cointreau and not the Pierre Ferrand curaçao we used. It's actually kind of a wonderful mystery, how and why the ACAPULCO is so awful, clearly less than the sum of its parts. It is so vile I might actually lobby to go against tradition and make it again to be sure of its vileness.
SCORES: Brian gives it a 2. Eric, a 1.
Our final task is to get the ACADIAN MEAD going. Here's the minimalist recipe from The Complete World Bartender Guide, Copyright 1977:
ACADIAN MEAD 
2 quarts honey
12 oz. boiling water
Dissolve the honey with the water in a crock pot; allow to ferment before bottling and sealing.
Once again we are back in the jungle with a severe knowledge deficit. How do you know when it's fermented? How long do you bottle it before you consume it? How come you don't add yeast to it? Where does the yeast come from? We feel woefully inadequate—clearly some prior brewing experience is required here.
Our main question, though, is why this recipe has a honey to water mixture of 5.4:1, whereas every single other mead recipe in the world has a 1:4 honey to water ratio. This recipe is asking for 9 ½ times as much honey as normal. Clearly a misprint, right? Yet after the unlikely success of the A-1 PICK-ME-UP we feel a certain loyalty toward The Complete World Bartender Guide, Copyright 1977. We have to give it the benefit of the doubt; it would be traitorous to abandon the Book after it's first true come-from-behind victory, no?
So we decide to make two batches of ACADIAN MEAD: a 5.4:1 honey to water version, and a 1:4 honey to water version, just in case the book cannot be trusted. Either way, we will be covered. The rest of our questions we will deal with in a later post!!!
But before we end, Brian and I try another glass of the A-1 PICK-ME-UP, by choice. We have to finish the evening on a high note. Brian bottles me up some more and even Karen approves of its thick goodness. Miraculous!
SESSION STATS
Location:
-Brian's Place
Tasted:
-Clear Creek Eau de Vie de Pomme
-Moonshine from Kings County Distillery
-St. George Absinthe
Eaten:
-500 Chicken Wings
Discussed:
-Uber in trouble
-Vietnamese produce
-Korean raspberry wine
-Dangerous parking lots
-Wild yeast and how to find it
-The women in the Amazon who create liquor with their spit
-Malort
-Underberg
-The Laphroaig Choir
-Laphroaig Milkshakes in Ballard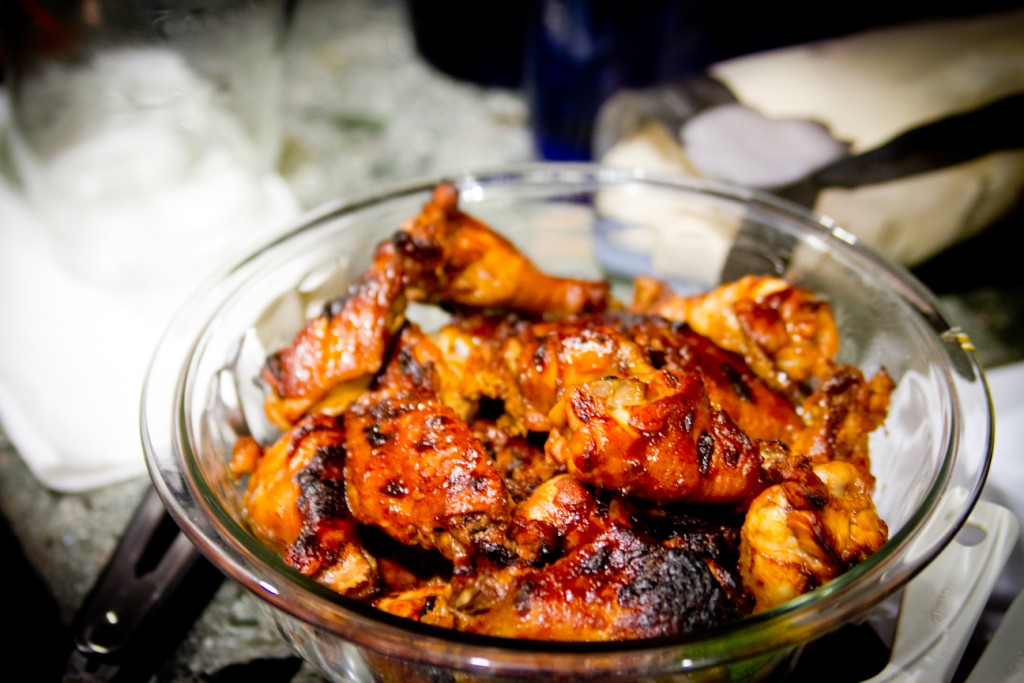 ---
---
---